How do I connect my Mobile Devices/Gaming Consoles and other Devices to Liberty WiFi?
Many WiFi capable devices can connect to Liberty's WiFi network, however WiFi enabled printers cannot connect, or work properly. For these printers please use a USB cable.
Devices which can "cast" to a TV (Chrome cast, Apple TV Airplay and similar) may not be able to receive any cast media although other features of these devices such as streaming from providers should work correctly.

Mobile Phones and Tablets
First, connect to the Liberty-Wireless network by selecting Liberty-Wireless in the list of networks to connect to in your mobile device's settings.


Then, go to https://onboard.liberty.edu in the default mobile web browser on your device. Once there, It will auto-detect your device and configure the settings to work with the Liberty-Secure network.

On an Android device it will prompt to first install the JoinNow app, and then to click Continue after it is installed.

If the Chrome browser will not proceed after this step or only downloads the file and nothing else, try going to onboard.liberty.edu in another browser on the device.
If another browser is not available or does not work, try connecting directly to Liberty-Secure following the steps below for Android phones

On iOS devices, you need to install and authenticate a certificate so agree and approve all requests that follow and, when prompted, enter your username (do NOT include "@liberty.edu") and password.



When prompted to login, use only your Liberty username, NOT your full email.


Last, connect to the Liberty-Secure network and verify internet connectivity by visiting websites in a browser on the device.
Note: These devices will normally connect to Liberty Secure, but can also be connected to Liberty wireless using the same general instructions as for Smart TVs, gaming systems and other devices.


Android Phones that show "Phase 2 authentication" option.
Newer Android phones can connect directly to the network, eliminating the need for the JoinNow app. For these devices connect directly to Liberty Secure and ensure these settings:
EAP method: PEAP.
Phase-2 authentication: MSCHAPV2.
CA certificate: unspecified or Do not validate
Enter your Identity as SENSENET\username.
Anonymous identity: Leave blank.
Enter the password associated with your Liberty account.
Select Connect.
Your device should show "Obtaining IP address from Liberty Secure..." then shortly after "Connected to Liberty Secure".
Once connected verify internet connectivity by visiting websites in a browser on the device.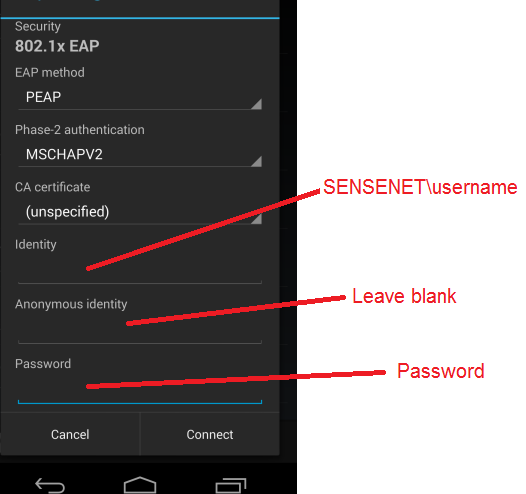 Smart TVs, gaming systems, and other devices
Note: These devices will not connect to Liberty Secure, but will authenticate through Liberty-Wireless for network connections.
Connecting your Smart TV, Playstation, Xbox, Blu-ray player, or streaming device can be completed in a few easy steps.
(Click on the following link for instructions specific to the Wii U: How do I connect a Nintendo Wii U to the Network?)
Go to https://onboard.liberty.edu from a desktop or laptop computer, or mobile phone/tablet that is already connected to Liberty-Secure and in the Connect Another Device section click Start.


Log in with your Liberty account (do not include @liberty.edu, only your username).


Enter the MAC address of the device (hardware identifier of the device, typically found in the device menu or written on the device, for example: 00-00-00-00-00-E0 - additionally, if you see more than one MAC address listed for your device, select the one labeled "WiFi" or "Wireless").
Enter a name for the device (do NOT use ANY punctuation in the Device Name field).


Select the default Register Device.


When finished, click Save.


Restart the Device, and have it connect to Liberty-Wireless.


Verify that the device is able to access online content.
Supported Game Consoles:
Nintendo 3DS and later.
Nintendo Wii U
Nintendo Switch
PlayStation 4 and later.
PlayStation Vita
Xbox 360 and later


Other Devices: